I couldn't resist, no not one single bit of me could, I had to get this wonderful free design stitched up.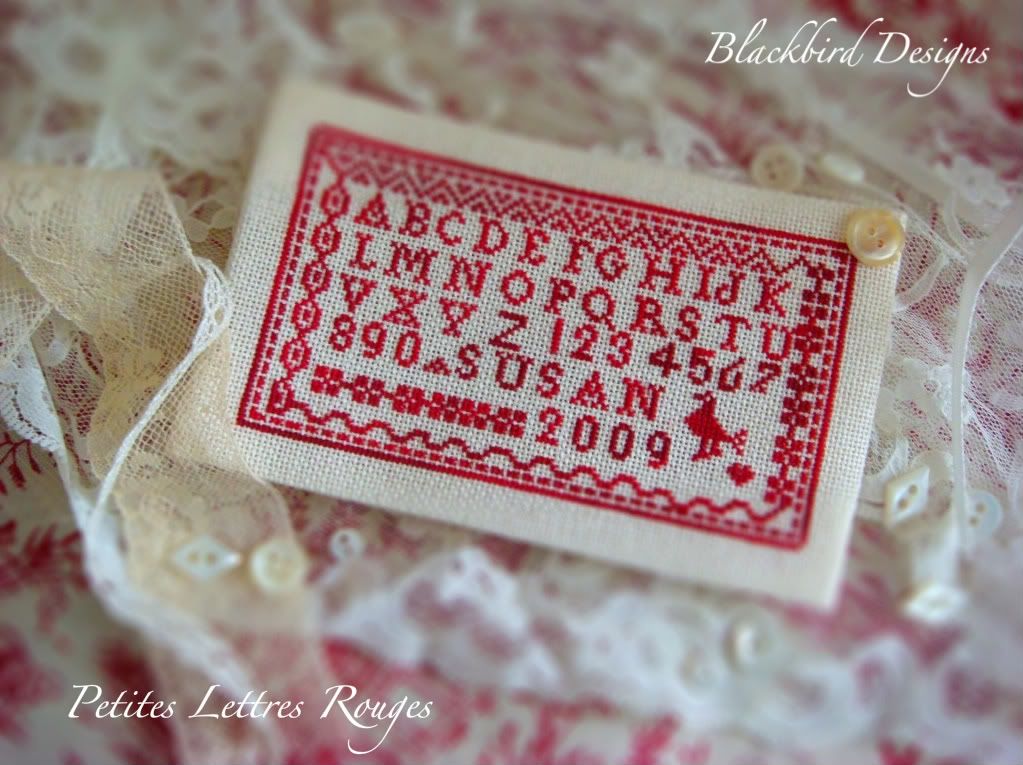 It is if you are wondering what I'm blethering about, it is the pretty little freebie by
Blackbird Designs
, Alma and Barb are currently offering this little lovely and a competition to boot.
Mine I have stitched to keep with the French theme. I have used 28ct Brittany evenweave 1/1 (well Brittany is in France isn't it!). I have used a Victorian red colour overdye, which I think is an Atalie colour (again a French thread), but I have lost the label and so not sure if it was Atalie or not.
I have kept mostly to the gifted design, but had to change the X and Y round as it just didn't sit right in my eyes, and I have added a bird and a heart and my own name and year, its been great looking at how everyone else has interpreted this design)
I have it in the photograph nestled in a bed of French lace and ribbon, with a scattering of Mother of Pearl buttons. Underneath that there is a red and cream miniature toile (very very French)fabric, (gifted to me by a very dear friend from her precious stash), now you might ask why have I done it this way, well.....
.....its because I want to frame this in an oversized frame, and I want to use all the things you can see in the photo, inside the frame, but as yet I haven't found the frame, but I will soon. I have really enjoyed stitching this little piece, and when I have been doing my blog tours, my my, there are some incredibly stunning finishes of it out there in blogging land, and I know which is my favourite totally finished piece and I think it should win, but I can't say here of course which one as hat wouldn't be fair LOL!
Hope everyone has a great weekend (or at least whats left of it)