Today was my first of the 4 day course at Fobbles learning to do a craft that I am a complete novice at - Patchwork. I went this morning with butterflies in my stomach, not knowing what to expect or whether or not I could master this craft.
I didn't need to worry one single bit, Barbara Slee our course tutor is wonderful, thats Barbara below slaving over a hot ironing board

Barbara gave us all a brief introduction to Log Cabin Patchwork, she explained about its origins. I learnt that it came from Egypt and there was a 'mummy' found in a pyramid, wrapped in a log cabin design shroud and also if you look at a birds eye view of a pyramid it is laid out like log cabin patchwork.

We also learnt that in America, log cabin work always started with the centre block being in red as it signifies the fire in the house and the light and dark blocks around it signify the room, the light part is where the fire shines in and the dark is the shaded part of the room where the firelight never reaches.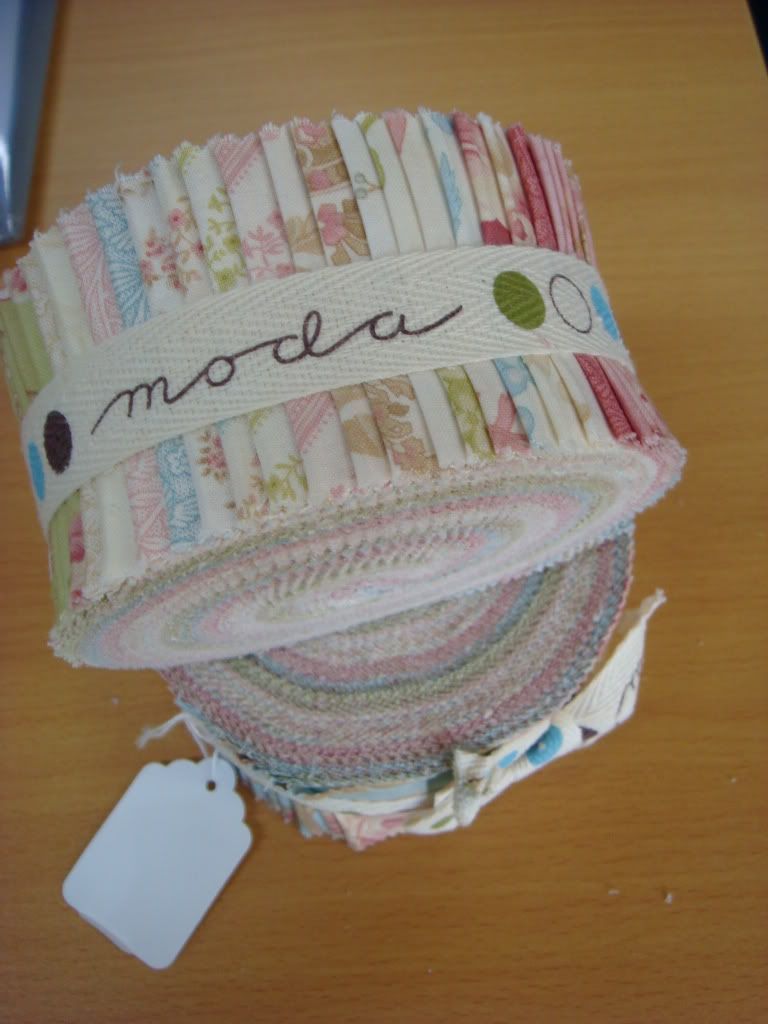 My fabric had arrived I chose 'Aviary' by Moda as the colours will look wonderful in our bedroom, and I have cut some of my cutting time down as I bought 2 jelly rolls. I still have to cut my borders and I haven't got a picture there of the fabrics for them,they are 3 different designs taken out of the 'Aviary' range, a cream, pink and soft aqua, for my 2", 4" and 6" borders and the binding, but I will show pics later this week of them.



After dividing my strips to light and dark, I then got to work measuring and cutting them. The block you can see behind my strips belongs to Joan, she is super fast and her fabric choices are wonderful, she had finished 2 blocks before I was halfway through cutting strips LOL!

Barbara took pity on me and said to start and sew one block after I had cut quite a few strips to size.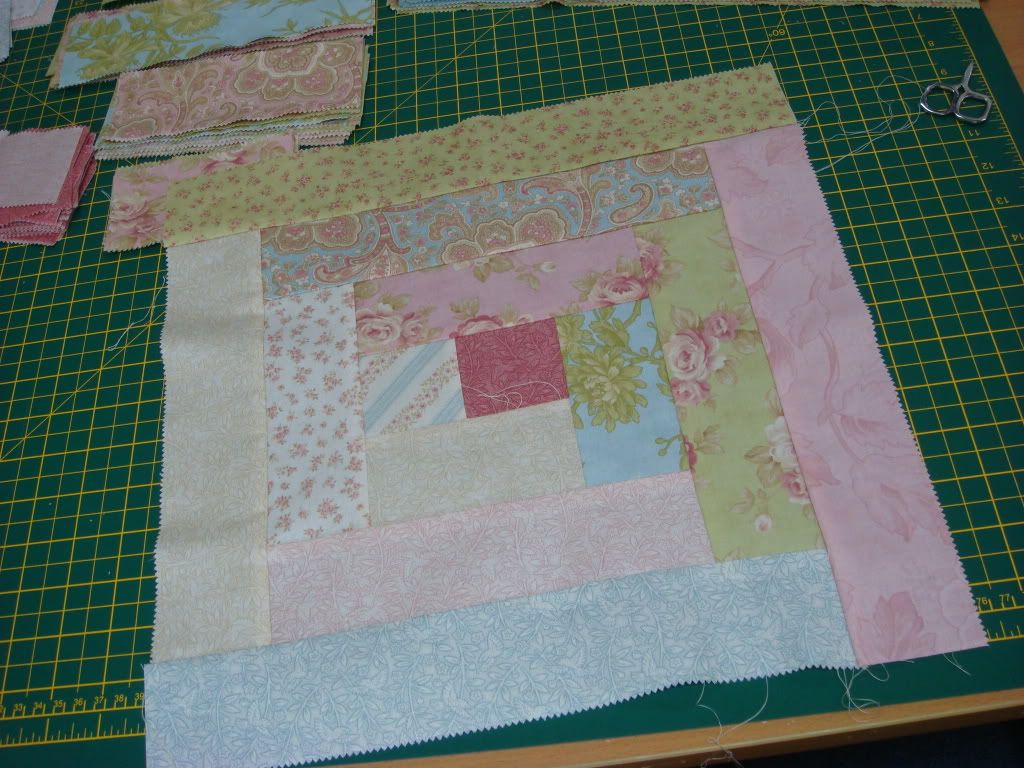 ..Ta Da.....my very first block, only 35 more to do, as I am making a King size quilt for our bedroom.
Tomorrow is more cutting and hopefully much more stitching, so that I will have a few more blocks put together.

I was by far the only inexperienced one of us, as all the other ladies had all made quilts before, and I hope to bring you updates this week of the ladies and their quilts that they are making.

Hope that your week is going as well as mine has started, we also got our 2 week holiday booked for the end of June, which made my day even more exciting and I was full of happiness when I got home tonight, I rang my sister Helen, then my mum and then my MIL rang and then I saw my friend Gill and then spoke to my SIL Dawn and I was just full of my great day - sorry if I bored you ladies (but I don't think I did) LOL!!Tomorrow night, all of us on the course are heading for an evening out for dinner after we have finished the days course work and I am soooo looking forward to it, at least I will sleep tonight as I am shattered now.

Have a great week everyone and I hope that your weather is as wonderfully sunny and warm as ours is.