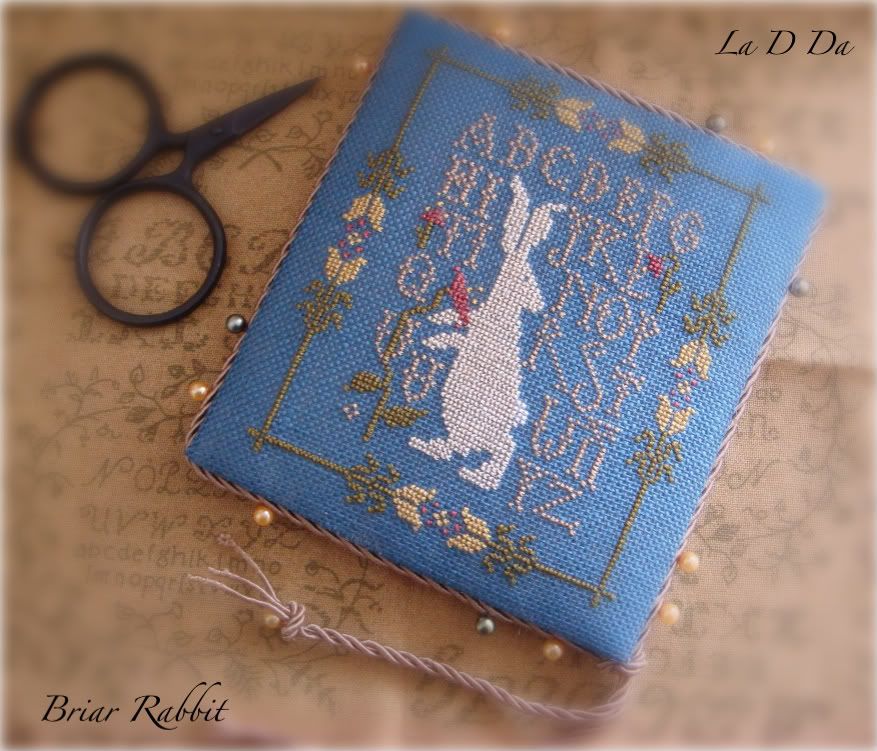 Very little stitching has been happening here this week, so my rotation has gone a little awry, but I am stitching my Quaker cherub by AMAP.

I have done some finishing though and this is one of them, this gorgeous Briar Rabbit is by La D Da, and I have stitched him on unknown count linen, (I think its 30ct) on an unknown colour, but I just loved it and thought it looked fine, he's stitched 1/1 using the recommended DMC, the backing fabric I have used for this is the same as the one you can see him lying on. I've used glass headed pins in a sagey green and mottled gold and dull brown cording which matched the alphabet stitching.

Thankyou for your encouragement re: my rotation I do appreciate it as I do each every comment and visit. ( Helen - you cheeky thing, I had to laugh when I saw your comment about the fox and rabbit and yes, I have promised Mark I will pick it up again soon(ish) LOL!!)Hope you all have a great weekend, I'm off to Fobbles again tomorrow, but this time its an open stitching day - anyone want to join us? I think I will take my SB ' Sail Away and play catch up with it.