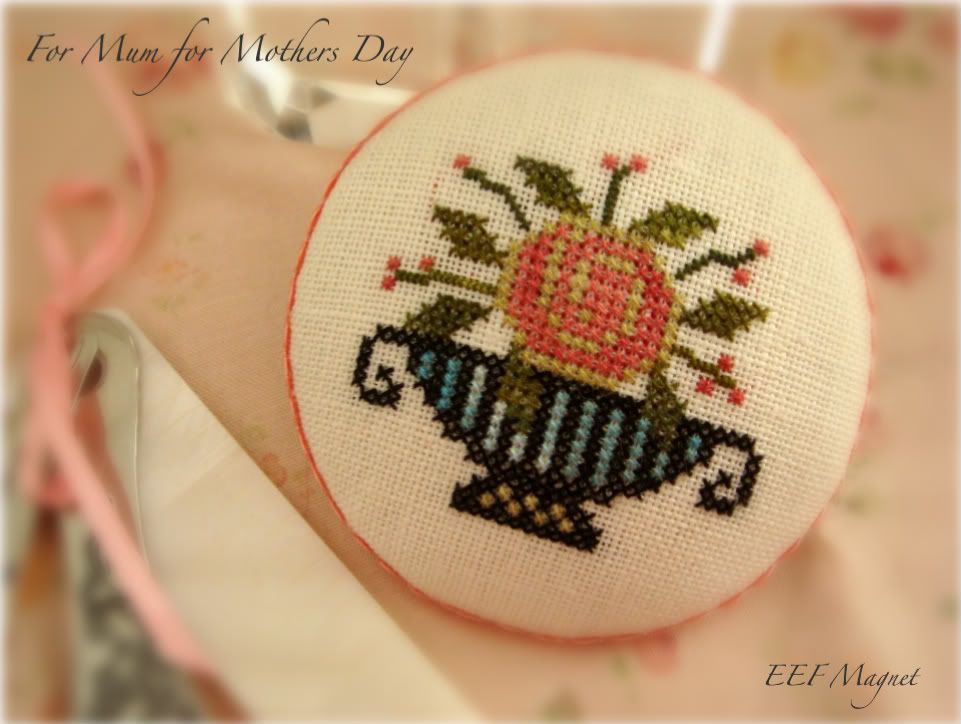 This is the wee something I made for my mum for Mothers Day. Tomorrow is Mothers Day in the U.K. I feel quite safe showing it now as I know Mum won't be peeking via Helens computer at this time of the day.
The design is EEF's Flower Basket from the button magnet collection, its stitched on 32ct linen using a mixture of threads I had in my 'littles' box. Yes, it is a magnet and its about 2" in diameter, it was a really nice little piece to do and I hope that mum likes it too. She'll be able to pop it onto her fridge in her new kitchen. The outer edge is trimmed with narrow ric rac, I didn't take a pic of the sides but you can just make it out in this picture
THANKYOU SO MUCH
for all your wonderful comments that you have all been leaving me, I really have been over-awed by them all, its so kind of you and I really appreciate them all.
I have been a little slow in getting round blogs myself again lately but I hope to try and catch up with you all soon,plus I owe some emails to my long suffering friends, which I will try and do tomorrow, its been very very manic at work, I was there again today, but I refused to go in tomorrow, I feel 6 full days is long enough it just makes me so very tired and unable to cope with my life, if I get that tired, and that will never do, will it.
I have been stitching away and have managed to finish my SIL's birthday gift, but not the finishing, I have also got a CEC spring/easter finish to show and I have almost finished another La D da, plus I have started last week Goode Huswifes 'seed for another', which will become part of my rotation - Yep you heard right I'm going to try a rotation - how far I get with this is another thing all the other times I thought I might try, have fell to the wayside, but I will try again, I haven't decided what else will be added as yet, apart from BBD's 'Spring Fling', so watch this space LOL!!