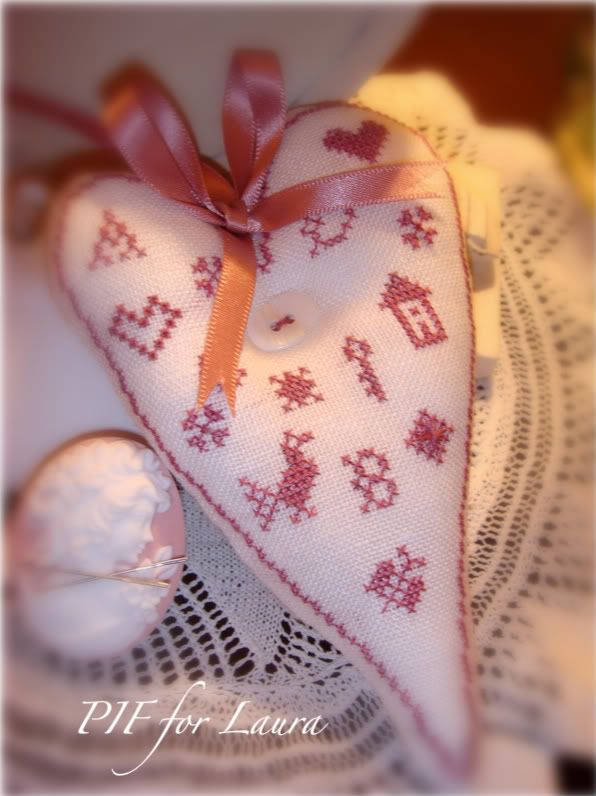 I am really hoping that my PIF to
Laura
has arrived safe and sound, Laura has been poorly and so MIA for a while so I hope that this has cheered her up a little.
Its a modified take on Mes petits coeurs I by Au Fil des Reves I have added a couple of speciality stitches to the design and stitched it as a monochrome in an overdyed hazy pink that I had in my thread box of unknown threads! The button is one I got from Duttons for Buttons in York and is MoP, the backing fabric is a small gingham check in hazy pink and white. The fabric is 32ct white linen and the ribbon hanger is some satin ribbon I had that matched perfectly.
I was really pleased with the resulting finish and hope that Laura likes it too, I also sent another PIF at the same time but that has a wee bit more of a journey to travel,and so can't show it yet cos I don't want to spoil the surprise and I know that the recipient looks at my blog occasionally, so now I have 2 PIFs left to do.
I haven't ordered the chart in the post below yet, but will do I think, if Mary Kathryn has it after I get paid, plus of course I will want the threads and some more fabric, I'll let you know when I get it!!