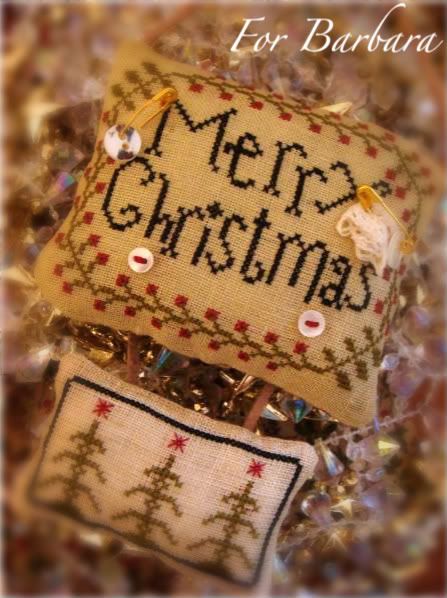 Yay, my parcels are starting to arrive, this ornie is what I stitched and finished for
Barbara
for our winter seasonal exchange, I asked Barb in Sept/Oct if she wanted a winter exchange or a Christmas one, she said that she really didn't mind which I chose, so I was really pleased as I love doing Christmas ornies and as I had earmarked this out to stitch for her as I thought it was to her taste.
The design is by Carriage House Samplings and I have stitched it on 2 different coloured 40ct fabrics using DMC, the back fabric tones with the trailing vine around the ornies and is a MODA fabric. I used a little bit of lace and MoP tiny buttons for decoration and honestly they really are tiny, along side some Sajou dafety pins (I didn't have any rusty ones) and a leather hanging strap. Its supposed to look all lopesided and not straight corners and edges, as its a bit prim, it was hard to do for me as I like my corners even, but I overcame the urge to make them straight and pointy.
Thanks for the emails asking about how I'm feeling, my voice has returned now though some days its a bit of a croak, but the cold is still hanging in there along with the wheeze and the cough. Good news though I finished work today until 5th January - Yippppeee!! Loads of stitching to be done including my last stitchery of the year which is always for Mark, which I have been planning.