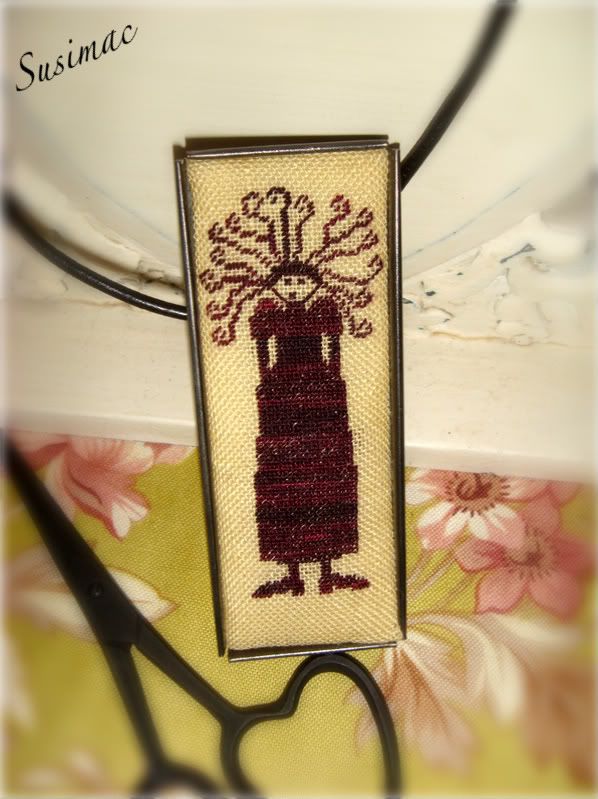 .... is no longer all dressed in black LOL!!, for my version she has become a little bit of the 'scarlet' woman!!
I was inspired to stitch this a couple of years ago ( though its taken me til now to do it), when
Vero
had encouraged us all to stitch her after she had done her as a brooch, ever since then after seeing at that time the lovely variations of MMM, I have so wanted to stitch her, so I decided as I was wearing a black dress for Christmas Day and it would look so right wearing it with a long necklace I finally stitched her and I must say I am delighted with my finish.
She's stitched on 40ct 1/1 and I used GAST currant for her then she has been inserted into a little pintin I found after ratching through my stash.
I really hope that you have had a wonderful Christmas time so far, I know I have and I have some other bits and stitching to show you, but not today, my coffee maker broke yesterday and I am now frantic as I have had no coffee, so I am off to Whitehaven to Argos to buy myself a replacement, I want the same machine again, but this time if I can I want a 'red' one - hmmmm there must be something about red for me at the minute.
Yesterday I had a great stitchy afternoon, or should I say chatting afternoon, Bev and I had planned a get- together at my home, we chatted more than we stitched LOL!! so we are going to have another this coming week and we are stitching this time (well, maybe LOL), its good to be able to do this as we are both off work, Bev and Edna open Fobbles again on the 5th an I go back to work on the 5th Janiary.
I would just like to add a big thankyou for your lovely e cards and emails and cards I have received for Christmas I have really appreciated them