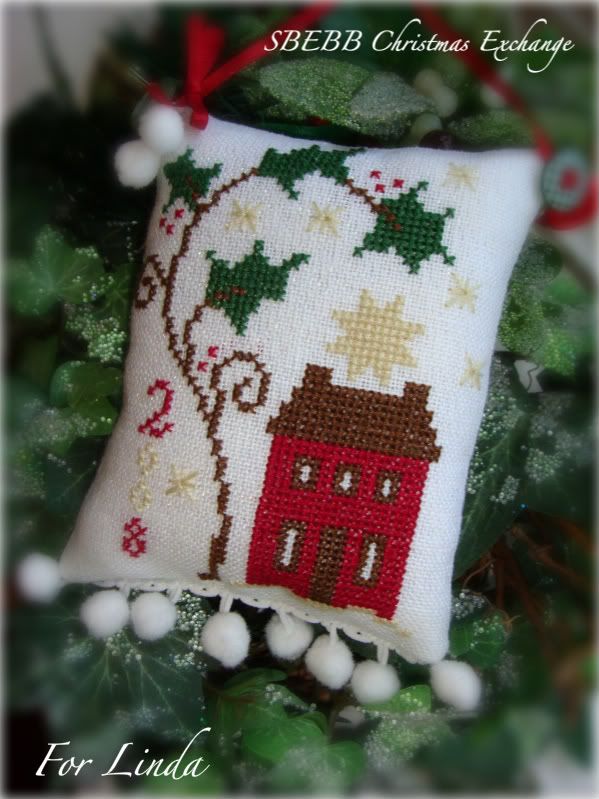 Here is my Christmas ornie that I stitched for
Linda
for the SBEBB Christmas ornament exchange. This was my final exchange from the board as Becky has decided the time is right for her to close it. Thanks to dear Becky for the wonderful time I have spent on the board and the lovely 'friends' I have made I have really enjoyed doing the exchanging over the past few years, hopefully whenever Becky may decide to start another I will be fortunate enough to be invited to join.
So.... next year I will be exchanging far less, though I have a couple of private exchanges to do which I am really looking forward too.
Going back to the ornament in question - Its Blackbird Designs - House on Holly hill, stitched on unknown linen count (I think 28ct, this is an opalescent linen, though its hard to tell from the picture and is quite sparkley. I have trimmed it using pom pom braid and chequered buttons.
Well its raining here, so I am going to cosy up this afternoon and stitch, I have started on Marks end of year gift and its looking good.
I went out this morning before the rain and walked around the village delivering Christmas cards - I am so late with that this year and I still have a few to post, hopefully Mark will be able to take me to the Post Office tomorrow if he isn't at work again.
Have a good weekend everyone