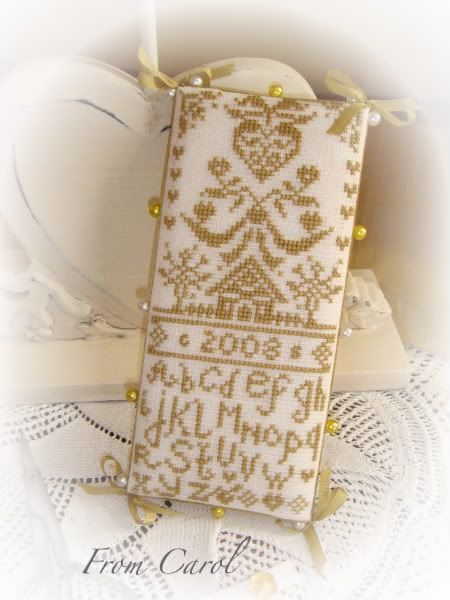 I consider myself incredibly fortunate to have received some very lovely exchange pieces, and this one is no exception, its so delicate, elegant and stunning.
Carol
and I decided a little while ago to stitch a private exchange and we picked pinkeeps as the finishing idea, yesterday the postman arrived with a bright yellow envelope from Carol, when I opened it, inside was the most delicately wrapped parcel all tied with gold ribbons and inside was this treasure.
Also inside was a selection of wonderful goodies, some fabric and silk fabric, threads, a pair of scissors (which are already in use), Carols amazing floss drops - (Yippeee, I have secretly coveted them from when I first saw them on her blog), a very pretty beaded scissor fob and some of Carols bead headed pins that she makes - I felt very very spoiled and it was a lovely exchange to receive - Thankyou again Carol, I hope that you will like my exchange for you as much and that this isn't going to be our last exchange.
Also Yesterday I received my JCS christmas ornie mag, I just found so many I want to do and have picked and started my first one for the SBEBB Christmas exchange.
Hope everyone is having a lazy Sunday, our clocks went back last night so the nights will draw in much quicker now, we have had the worst weather this weekend its been incredibly wet and windy, and next week we have sleet forecast - Yikes!!