To help me celebrate my 50th birthday next week and by way of saying a BIG THANKYOU to you all for visiting my little piece of cyberspace over the past 3 years, I'm doing a DAILY giveaway for 5 days which started on the 9th October.

So until 13th October there will be a new gift posted every day. All you have to do is leave your name underneath that days gift comments - Sorry it has to be in the comments part for that days Giveaway so as to leave it open and honest for anyone to view who asked to be placed in the draw.
I also need to know how to contact you in case you are the winner! Please don't forget to leave me your name when you post in the comments.

I will draw the winning name on a DAILY basis, so check back to see if you have won and I will close that particular days and give another so you can enter again.

You can enter every day for a giveaway BUT ONLY 1 entry per gift please.

This is open to everyone even if you don't blog, and wherever you might live.

The final winners name will be drawn on the 14th October the day before my birthday.


I will snail mail all the gifts on or around the 17th October, so please when you enter let me know how to email you to get your snail mail address, cos if I can't contact you then I will have to re-draw.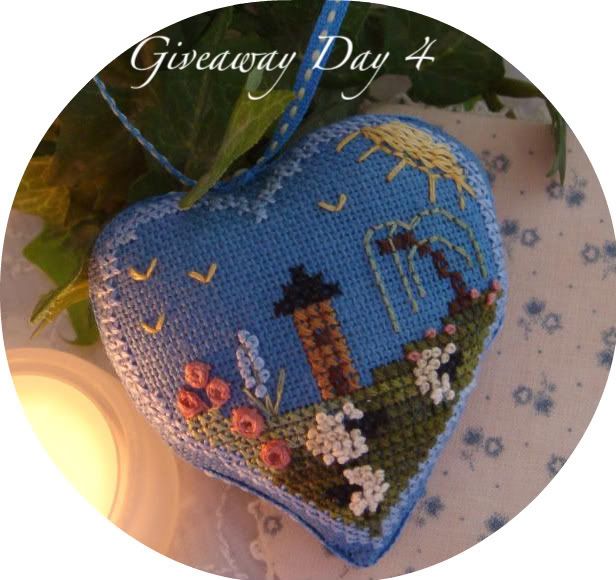 This little ornamament is called Peaceful Valley and its by Homespun Elegance - I just loved this little design, its stitched on 28ct evenweave (colour unknown), I think out of them all this and tomorrows giveaways were my favourite to stitch and finish.... The threads are a mixture of GAST/WDW/DMC. The backing is the same as what I have stitched on and the trim around the edge is a cotton ribbon that you can see for the hanger.

Hope that you want to enter and I will draw the name of the winner for this one tomorrow evening.


Giveaway winners so far :~
Tina D
CarolG
- Carol you need to contact me, to send me your details, if I don't hear from you I will have to re-draw this one again on the 16th
Lisa
Thankyou so much everyone for wanting to enter
Good Luck!!