Today is the last day of my 5 day Birthday/Thankyou Giveaway.

All you have to do is leave your name underneath todays gift comments - Sorry it has to be in the comments part for that days Giveaway so as to leave it open and honest for anyone to view who asked to be placed in the draw.
I also need to know how to contact you in case you are the winner! Please don't forget to leave me your name when you post in the comments.

I will draw the winning name tomorrow (usually between 15:30 - 16:30 GMT), so check back to see if you have won

This is open to everyone even if you don't blog, and wherever you might live.
I will snail mail all the gifts on or around the 17th October, so please when you enter let me know how to email you to get your snail mail address, cos if I can't contact you then I will have a re-draw on the 16th.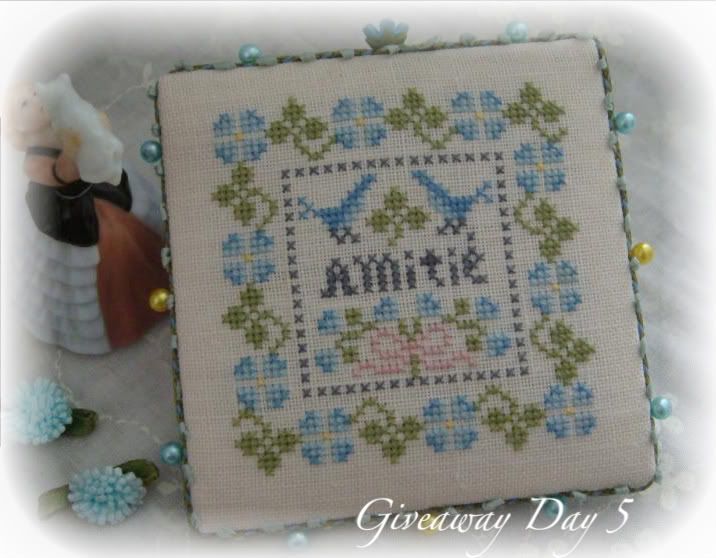 Todays little offering is a pinkeep, the design is called Amitie (Friends) and is by Windy Willows.
I have stitched this on 40ct white linen using DMC thread, the back is a pretty soft turquoise and white gingham check fabric, the edge is trimmed with a vintage braided ribbon in soft green and turquiose and I have used toning ball pins around the outside. The top middle pin is a flower.
I loved stitching this one and can see it in endless colourways and finishes. The colour on my picture is much brighter than it is in real life, its a lot softer when I look at it in my hand.
Well I hope everyone has enjoyed entering into the spirit of my birthday as much as I have enjoyed doing it, I am only sorry that this is the last one, but thats the lot!! Remember I'll be drawing this one tomorrow so check back to see if you have won.
Giveaway winners so far :~

Tina D

CarolG
Lisa
Loralynn