What a truely wonderful day I had yesterday and I was spoiled rotten!!
My first surprise came when I was talking to Dawn (my SIL) on the phone I was wandering around outside, and you know when something catches your eye, well I turned and there was my dad standing at the back gate, it was such a shock (my parents as you may know live well over 200 miles away from us, then my mum appeared then Helen my sister with my nephew and niece, who got special permission to be off school for the day as it was my 50th, talk about shock when they appeared, It was soooooo lovely.
Mum came bearing cake which was carried by Amy and Kier brought me flowers.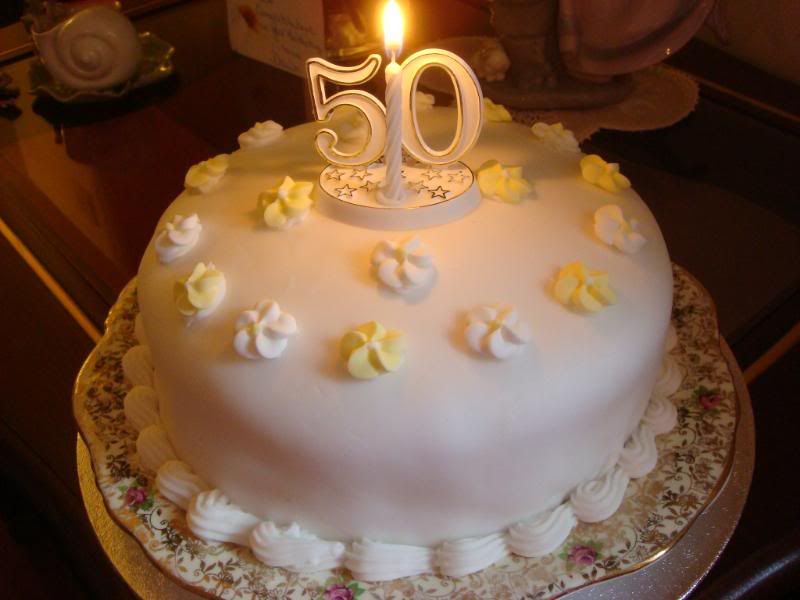 Picture of said cake, with candle lit prior to cutting into it. Mum made and iced the cake and it was delicious!!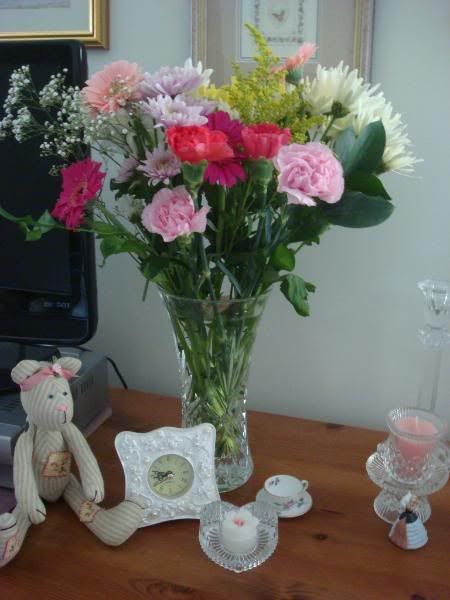 This is a picture of the wonderful flowers that they brought me, they are so pretty and are in our bedroom.
We all went out for lunch and I found out that this had been planned for at least 2 weeks and kept a secret, and what a wonderful secret it was too, it really made my day, apparantly everyone - family and friends - knew apart from me!
We then visited Fobbles which was wonderful as always then we went and visited our local garden centre (garden centre I hear you say, its autumn, what does she want to go there for?) - Well its full of Christmas and its beautiful and smells wonderful with the Christmas candles etc - which of course I had to buy, along with the trats I bought from Fobbles.
I also received a beautiful bouquet of flowers from my friend Gill.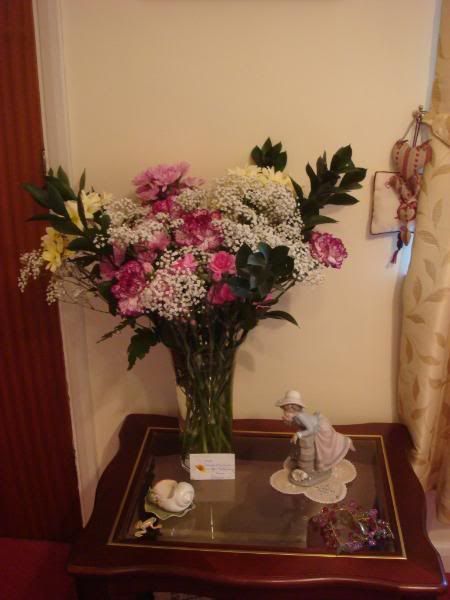 These ones came from my friend Dizzy, so our home looks pretty with all these beautiful flowers. We went out to the pub for a drink in the evening after the family had left, and later the whole pub sang Happy Birthday to me, gosh was my face red, as it was full of the darts and dominoes team and the away team too, so you can imagine all these guys standing singing LOL!!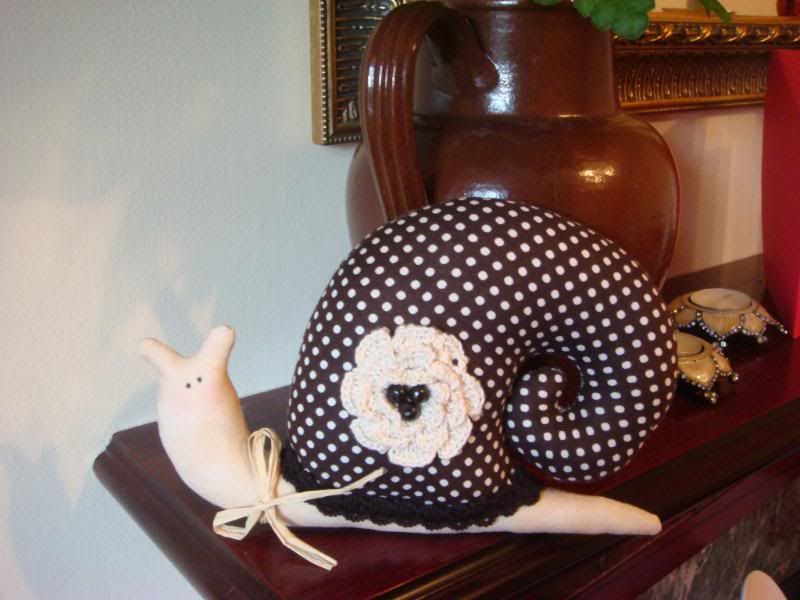 Yuko
thoroughly spoiled me with a gift of one of her wonderful Tilda snails - so meet 'Mog' she is so cute she has wonderful soft rosey cheecks and her shell is just so stylish, 'Mog' and 'Rosie' bear have become firm friends. I also received some lovely tea, and a vase and a halloween hanging.
I also would like to thank again
Chris
for another surprise that came through the door yesterday, Chris sent me some choccies and Jeanette Douglas chart 'Awesome Appleseed needlebook' that has been on my wish list, I can't wait to start it.
Thankyou too to everyone for sending me the e-cards, emails and cards, I really appreciate your thoughtfulness and kindness. I really had a WONDERFUL Day, and apparantly its not all over yet, there are things afoot for the weekend!!