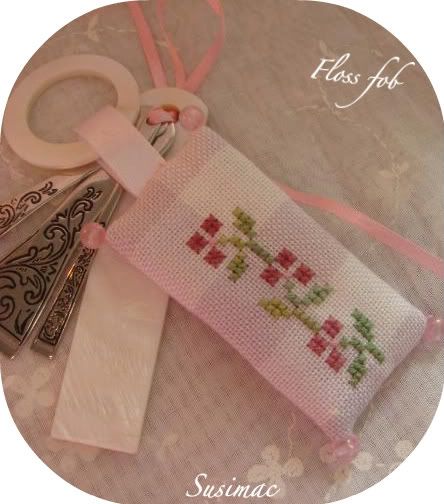 I considered myself very very lucky recently as Paula from Kelmscot designs surprised me with a wonderful, wonderful package and inside the package were her new MoP large rings, now I know that floss fobs tend to be made in a different way, but this just shouted out floss fob to me (and to my SIL Dawn - but thats another story for later on in this posting). So I stitched
Nina's
pretty little freebie added a pretty matching ribbon and used one of the rings and made the wee fob.
Also inside the package were the very pretty cancer ribbon scissors and although I haven't done the finishing up yet I have stitched Mary Kathryns charity Think pink design from last year over 1 and will be making it up into a scissor fob.
Thanks for all your good wishes regarding my rotten cold, I have gone back to work, but its sitting around my head and I look oh so attractive - NOT!! with my very red and scabby nose and my balance is a all out of sync and I tend to almost fall over if I move my head to fast as I think my ears have a minor infection I'll know more tomorrow as I will just have to go to the docs as I can't sit for long with this awful ear ache!
Oh and going back to the floss fob, Dawn now holds it in her possession and it comfortabley holds 6 skeins of thread around it and she's using it!!