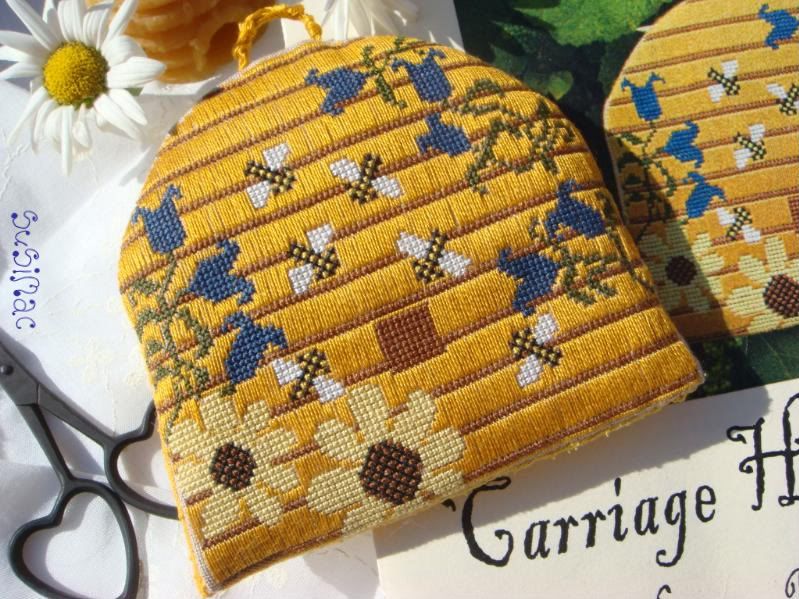 My private exchange with Dear
Becky
has arrived at her door safe and sound today.
It was such an easy choice as to what to stitch for her, as we all know Becky loves bees, and I had this chart in my stash and knew that was what I wanted to do. I have stitched it on 40ct linen, using the recommended DMC colours, and I also finished it as a flat ornament, using quilt padding inside in layers. The reverse fabric is some wonderful hand dyed silk moire in the perfect gold/yellow colour which was given to me by my dear friend Angela, it was the perfect choice for the wee skep. The design is by Carriage House Samplings.
My other stitching is coming along well, I am now stitching my exchange piece with my mum, I have finished stitching all my others and just have the finishing to do. Usually I do my finishing at the weekends but this weekend is the Durham trip to my SIL's we are taking some friends with us for the first time and we are all really excited - lots of shopping to be done LOL! Sooo finishing will have to be done next week instead and I have a couple of new ideas swilling around in my head.
Ooo before I forget, our new neighbour is a rather charming young fella called Chris ( he's rather good looking too and very charming) he's about 25yrs and has a very nice girlfriend.