Chris
let me know that my Valentines exchange to her had arrived safely and that she was more than delighted with it, which made me very happy.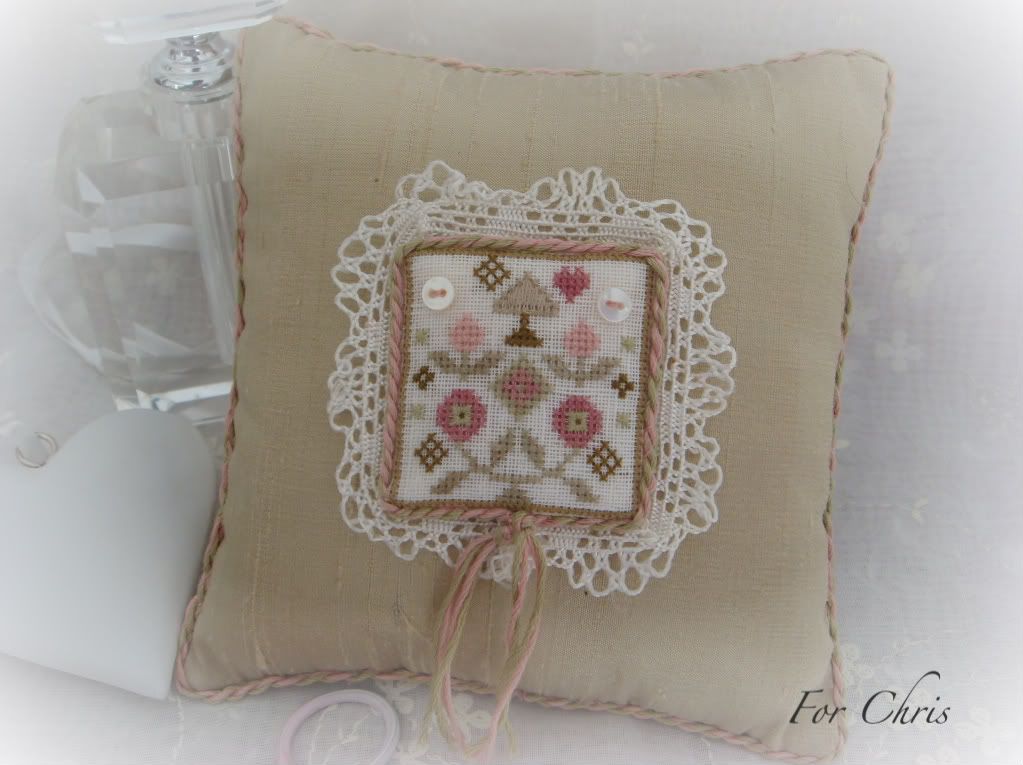 The design is 1st Exemplaire by EEF and I have stitched it on 40ct linen using the recommended thread colours, it was a really feminine design and I thought it deserved a very feminine finish and I made a small cushion using silk fabric. the trim and the edging around the design I made using some of the thread colours and I edged the underneath with some of nana's lace cos thats very feminine and pretty.
I also owe a massive thankyou to Barb (from Stitch and Stash Board), Barb has RAK'd me and she has sent me the new Blackbird Designs book "My heart is true" I was absolutley blown away with it and it made what has been a totally crappy day into a wonderful day, I don't know what I have done to deserve such a wonderful gift, but it certainly pepped me up and made me smile (I'm still smiling).
Also a rather belated thankyou to dear
Nancy
who nominated me for this award, I was so touched by what it stands for and delighted to receive it. It's called the Special Friends Award and "Love" Pendant.
The description for this award reads "These blogs are exceedingly charming. These kind bloggers aim to be friends. They are not interested in self-aggrandizement. Our hope is that when the ribbons of these prizes are cut, even more friendships are propagated. Please give more attention to these kind writers. When you pass the award along please include these guidelines. I am to choose eight friends to share this with.".
Again finding 8 friends is difficult as I have made so many friends through blogging, but my 8 in particular for me have to be
Nancy
I know she gave me the award but it doesn't say I can't send it back and I feel we have become 'good' friends over the past year
Barbara
- who encouraged me to blog in the first place and is always there
Annemarie
who I think I have known the longest as an online and phone friend, and I do love our friendship and her wonderful blog
Vonna
Love you sweetie!!
Yuko
for being my friend and the kind, generous beautiful person that she is
Romy
cos I think she is so talented and modest and kind
Becky
for being my friend
Carol
for our blossoming friendship
and last to be mentioned (remember this list is not in any particular order or exhaustive) but certainly not least
Helen
for being my wonderful little sis and my oldest and closest friend.