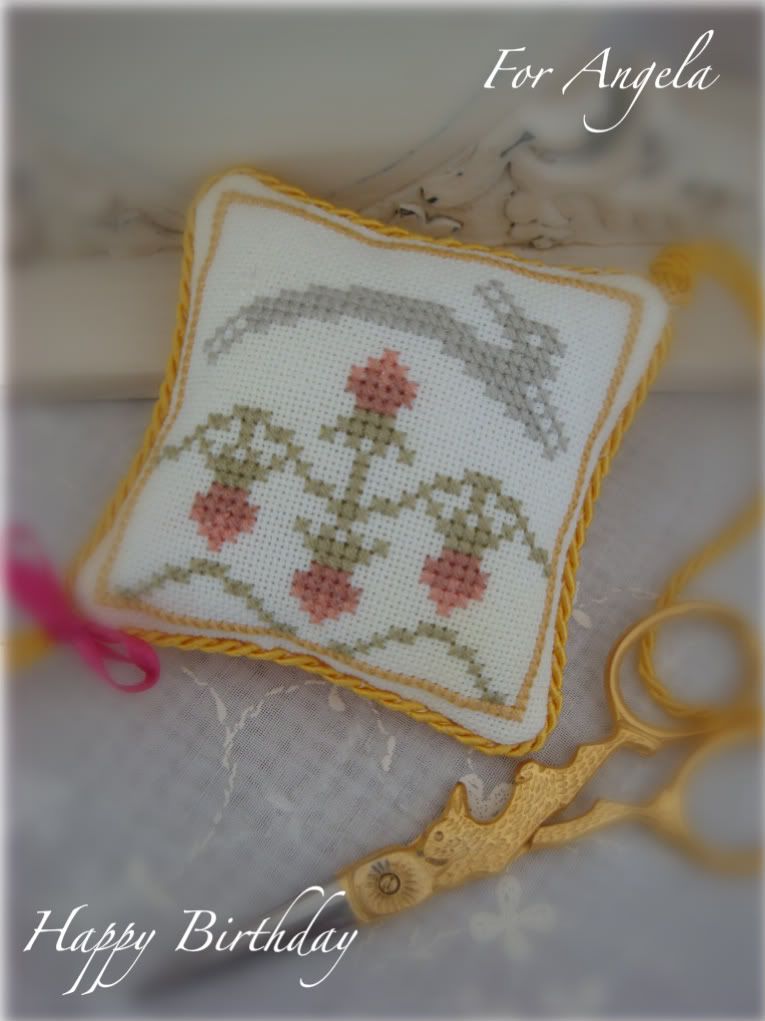 It was my dear friend Angelas birthday this week, and so I made her this little fob the design is taken from Brightneedles - Eastertide sampler. I stitched it on some hand dyed 28ct fabric I got from Jaynes attic at Christmas - the fabric was quite odd to work on as it felt like it had a rubbery feel to it! but I was pleased with how its come out, the backing I used a piece of the same fabric but covered it with a bright lemon hand dyed piece of lace and then edged it with cord. Ang tells me she loves it so I am happy she is happy - Happy Birthday my friend!!
What else to tell, well I have finally been convinced it would be a good idea to sign up for a patchwork quilt course being run at
Fobbles
, in April, I have been wanting to make my very own quilt for years and now hopefully this will be my opportunity to make one - I hope I don't get bitten by the quilting bug too much as I have enough with my stitching LOL!! and it will be taking me away from my normal 'comfort' zone LOL! But nevertheless I will give it a go and hopefully produce something beautiful that could be an heirloom!!
I have finished Part 3 of my Sail Away SAL but have yet to take some pics, and I have finished Carols exchange piece after a previous disaster with the first thing I made, so this weekend I will do some finishing work I think as I must send next week.
Hope you all have a great weekend, at the moment its not raining here, just bright and cold which I like, better go and help Nephew 2 sort out my little pond.