Barbara
is my partner for the next year for the Seasonal Exchange and as you know I received a few weeks back the most wonderful parcel from her which was stuffed full of Barbaras wonderful finishes and the biggest wicker wreath to place them on, so I deliberated and deliberated on what to stitch for her, and finally decided on what you see above.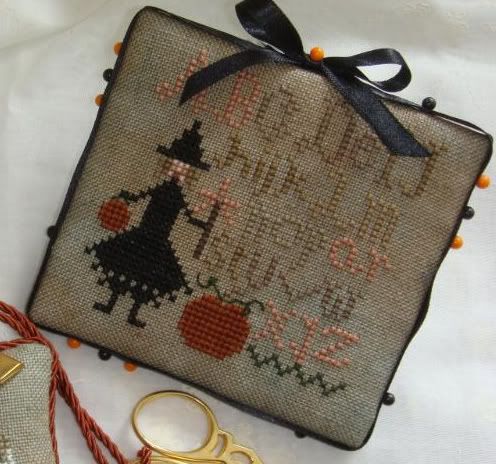 The pin keep is a Mary Garry Seasonal design and I knew that Barbara liked MG very much so I stitched it using a hand-dyed vintage looking linen. Its trimmed with black satin ribbon and orange and black pins.
The wee fob - which I have to add I am going to stitch for myself as he's too cute, is stitched using DMC Glo-in-the-Dark thread and it really works, the design is Heart in Hand if I remember rightly. He's stitched using the same linen, and I added the wee R.I.P. charm to the top.
I'm pleased that Barb liked it as I didn't strictly stitch Autumn, I stitched an Autumn event.