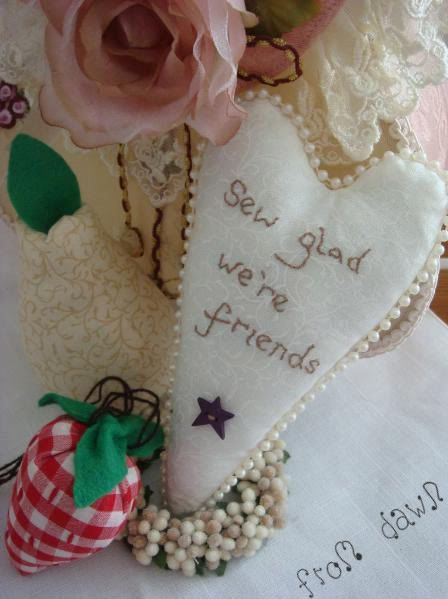 ........is in our midst. My SIL Dawn has decided that she just might like to have a go at making things, so she borrowed my TILDA books and had a try, when she appeared this weekend she came bearing gifts for me, she made me a pear, a strawberry and a heart with a beaded edged trim and the free style embroidery she had done herself.
I thought they were lovely and was very proud of her. NOW she says she wants me to teach her to x-stitch too and so we are going to look through my patterns this weekend and she has already been into the fabrics to raid but I had to re-direct her away from ther linens and towards the aida, just for a start, then we will progress after that, I was so happy when she asked me to teach her, its been a while since I've done that, so before long we may have another cross stitcher, I knew my constant chittering would pay off in the end,and dragging her around anything to do with stitching in the shops LOL!
.... Now to persuade her that blogging is great fun too!
Last night I went to see Mama Mia at the cinema it was BRILLIANT and really enjoyed it, it really is a feel good film, I might see if Mum would like to go next week when they are here as I know she will love it.