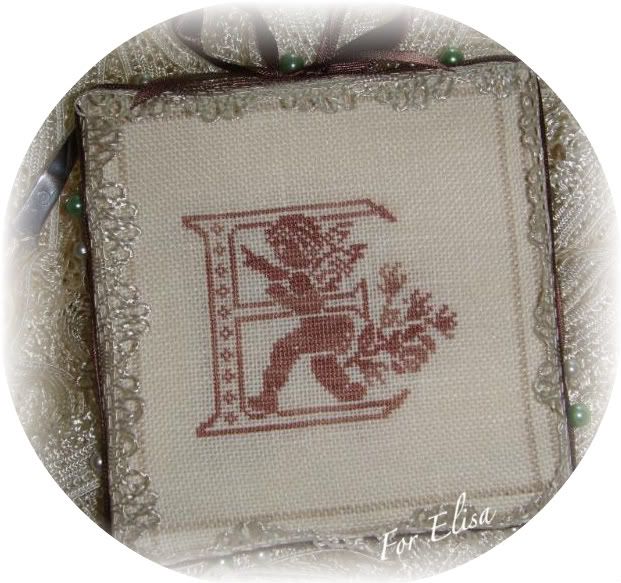 Elisa
received her exchange from me today, The theme was redwork or monochromatic, I decided to do a monochromatic one.
I had bought one of Yuko's designs from Casamia when her on line shop was open and it was of the cherub alphabet, I have longed for this alphabet for ages, and when it came it was perfect I felt to do for Elisa. I stitched her initial in Vicki Clayton 'chocolate' silk thread - Elisa loves chocolate, so I thought that the thread colour was just perfect for her.
Its stitched on Graziano linen and I couldn't decide for a while what to finish it as, in the end I thought the tried and trusted pinkeep would be nice, and I added a little of nan's lace around the inside edge as it looked a little bare otherwise. The backing fabric is a Moda fabric I had in my stash and it was chocolate browns and minty paisley. I used brown satin ribbon for around the outside edge and glass beads in mint and white.
I would also like to say a HUGE HUGE THANKYOU to
Chris
,
Jackie
,
Claudia
,
Hazel
, and Katica, who have nominated me for an award, your kindness has really touched me, I feel really grateful for all the nominations and its so nice to be appreciated by fellow bloggers.
Hope that everyone has a really great weekend, we intend to have a quiet one this week, Mark is very much improved and went back to work on Wednesday though I wish he had stayed off at least until this Monday, but he said he felt ready (He's missing his golf like mad too, not that he can swing a club at least for another couple of weeks), but I have passed on everyones good wishes.
Arrgh! Whats happened to my blog all my posts have shifted left and I can't seem to sort it - anyone out there got any ideas??