Gaby
made a wish too on the Make a wish board for a tin topper as she has never had or made one.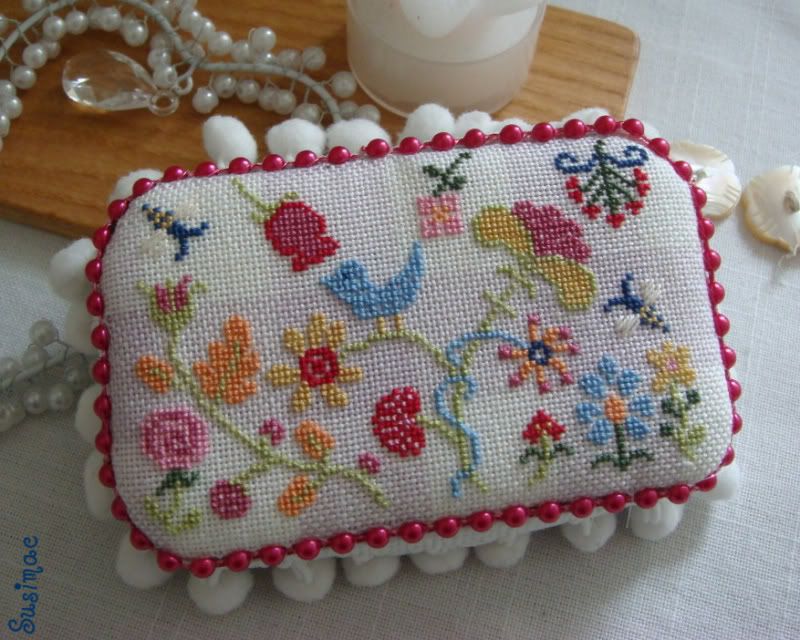 The design is by one of my most favourite French designers Anne Reginier of Tournicoton (I love Anne's designs and her newest one is just so divine! - but I diverse back to the subject in hand),
This little one is called C'est une Secret and I have stitched it 1/1 on 28ct evenweave which was lilac and white checked and I used DMC threads.
It was such a fun one to stitch and finish, I have lined the inside of the tin but forgot to take a picture of it - never mind. Well anyway Gaby received this yesterday, but I didn't get her email til after I had done yesterdays posting so hence I'll show you it today.
On another sitchy note:
OK Own up
, who sent the FROG??
P.... Leeeease no more visits, I hope I have managed to send him packing out to the Irish Sea somewhere, preferably stranded on a rock with no escape (though I did give him fresh water as I wouldn't like him to die of thirst), he arrived here probably on Monday, but didn't realise until Tuesday that he was sitting on my shoulder, I was going great guns at Garden Pleasure when I realised that I had mis-counted big style and had to pull loads of it out Arrggh. Any kind of way that I looked at it I couldn't hide the mistake so it was frogging I will go. Its sorted now and serves me right for stitching when I was so tired and forgot how to count, now to catch up on myself again!
Thankyou for all your lovely comments and visits, those who belong to Jaynes Attic, just to let you know I've opened a redwork or mono exchange it would be great if you could join us.