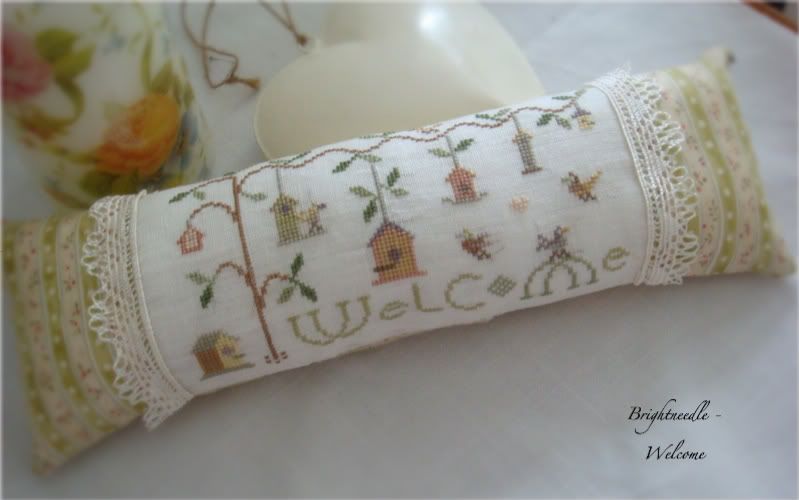 ........by Brightneedle is my latest finish to show, I wanted to finish it as something simple, and a double ended small pillow was perfect and as I am in the mood for spring so I chose a fresh green fabric for the cushion ends and back. The lace that you can see here, is what Marks grandmother made 60 years ago, when she used to make her own lingerie, Marks mum thought I would like it when she was clearing nana's stuff out earlier this year, the lace is handmade using silk thread and I love it.
I've stitched this on 36ct white linen, using the recommended threads.
I have done all the finishing on my Here's to Ewe exchange and I am really delighted with how its turned out, so much so I don't want to part with it now LOL!! But I will of course as I stitched it for my partner specifically in mind!
Also on the exchange front I am getting a little anxious about the tea time exchange I sent, It was almost a month ago since it went on its journey and as yet no word about it all, I really hope it gets there soon - I think thats the one and only thing I dislike about exchanging is the not knowing it got there safely until your partner posts up about it or emails you.
Well I hope that everyone has a wonderful weekend, we are off to yet another Birthday party this time its Marks Uncle Alans 70th, it will a more quieter affair than the last one we went too (though only just), we are having dinner and few drinks and Dawn and family will be over again for this one too, this year must be a big year for nought birthdays anyone else having a year with a zero? I know I am later on, mine is the Big 50! (yikes)