....as always in my life (and I know it will be the same for everyone, but as this is my blog, so its my life LOL!LOL) when it runs smoothly its wonderful and to be honest and fair I don't have many non smoothy type things happen, and as all people I have the usual illness and colds etc, BUT what I didn't expect was to go on a much much needed break to Tenerife for a week and the day after I get back end up in hospital at home with a suspected irritated pancreas - Now that really isn't fair is it??? Its not to much for to ask, to come back and feel rested and tanned not go away and feel a bit rotten and then get worser and worserer, having had 3 very overcast days in Tenerife 3 glorious ones too I must add and of course the company and holiday was great. Hospital, well thats not so great, I got out yesterday and spent the first proper night in my own bed - yippeee, I'm still fragile and I seem to have lost some weight somewhere - not that I am looking for it back again, no no - so if you find it you can keep it I don't want it back, I might loose some more along the way to recovery you never know!!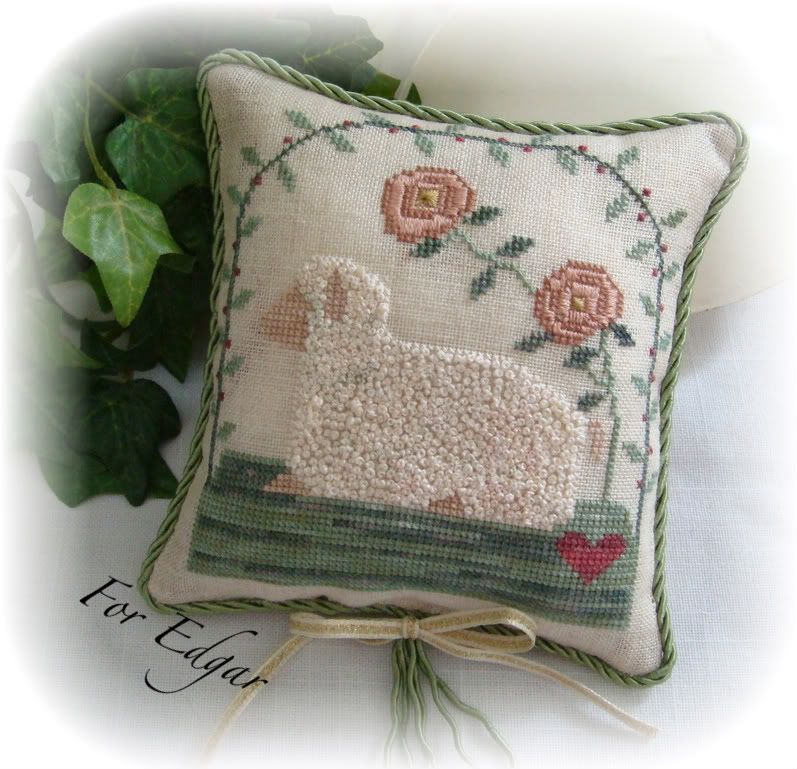 So not much on the stitchy front - my exchange arrived safe and sound to Edgar , and I was pleased to hear that he liked it very much - I liked it too, and now I want to stitch it for myself. The design is by Ewe & Eye & Friends (EEF) and is stitched using polstitches pearl thread for all those french knots and WDW/Gast for the grass all on 40ct lambswool linen (to keep with the sheep theme).

I also received mine from Valerie and my oh my its a real stunner, I'm charging up the camera so I can take pictures for you all to see - Mark, bless him has been run ragged this last week, with washing, hospital visiting and phone calls (I think we should have another holiday really) and never thought to charge up the camera, but I know when I opened Valeries parcel it really made my day, so when the pics are up at the weekend its'll make yours too.