This time I have stitched 'The Shepherdess' and isn't she lovely, I do so enjoy stitching these small designs again its taken from Pocket Needlebook No 2 (August 1989), which though I stated last time is OOP, you can get it still from Wyndam Needleworks I think.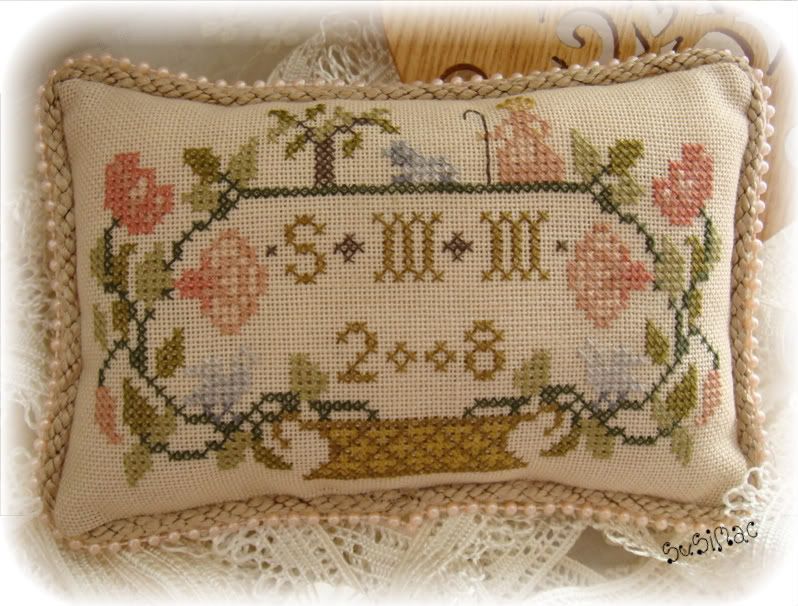 I've stitched it on 28ct evenweave - colour unknown and used the recommended thread colours. I have finished it as a small pincushion and double trimmed the edges with cording and beads.

This weekend is a Bank Holiday here in the UK and hoepfully the weather will improve here where I live. We have a wedding 'night' do to go to on Saturday, beacause I'm still not really feeling much like gadding about, but because its a daughter of a long time friend of Marks, we have decide to just pop in and 'show face' as they say here, We are sure that they will understand that we won't stay long, and as its in the village hall the do, its not far to wander up too, as I wanted to go and see the bride and groom. My recovery is going well, I had a bit of an 'off' day yesterday for some reason, but felt much better today. Tomorrow I have to get more bloods done, I'm beginning to feel like a pin cushion LOL!

On the stitchy front I've completed a couple of other things, which I have to do the finishing on, I want to do the finishing on Nickys last seasonal exchange too and get that posted to her, on the Grant a wish exchange I've got a couple of wishes to do for folks, both are tin toppers and I want to get them started over the weekend I think, plus I want to get the 2nd part of the Tournicoton mystery sampler done, in fact I want to finish the 1st part too, but ran out of thread for one part of it already!
In the post today I received a wonderful surprise from Kathy, who sent me the B is for Bee etc etc (5 charts in total, for all the alphabet) of the Sheepish designs charts that I have had on my wishlist forever, It was a huge surprise and I was really touched by her kindness.

*edited to state its Wyndam Needleworks not Shakespeare Peddler