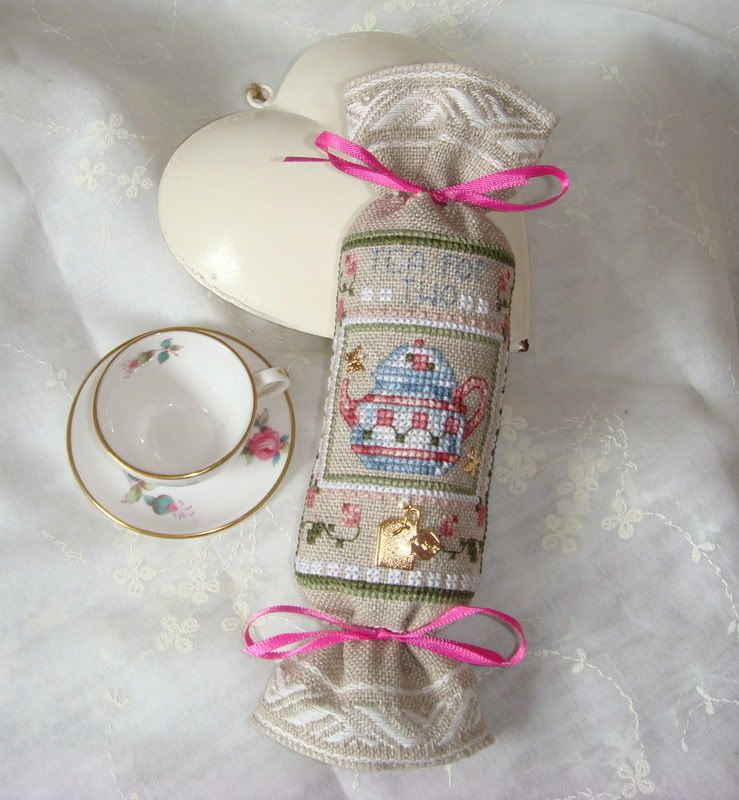 Carol
sent me this lovely little needleroll for the tea time exchange, isn't it pretty? Aren't the charms so sweet I love the wee tea bag charm I haven't seen one like that before I really think my needlroll is lovely, Carol also sent me some nice goodies too - which you can see on her blog.
The design is by Lorri Birmingham and stitched on linen banding, as always as is anything from Carol its beautifully stitched and finished, Thankyou so much for this wonderful piece Carol.
Hopefully my offering will get to its destination soon and that my partner I'm sending too will like what I have done.
We had a wonderful time last night - boring though we are (it was supposed to be fancy dress and we forgot so didn't dress up as anything apart from as ourselves)but it was really great seeing some of the costumes folks had taken the time to do, we had an Elvis and a Wild Bill Hickcock, we had several dubious nuns and a few tarts - funny how the tarts were all men dressed in ladies clothing LOL!! there was a 60's groovy chick and a Julius Ceasar to name but a few, we finally crawled into bed at 3:30am, so I have only managed to spring clean the lounge, the kitchen will wait for another day as I really don't feel like doing it today, I think I'll go and do some finishing instead LOL!
We are supposed to be at a 40th party tonight but am not sure whether or not we will make that one, I don't think my body can stand it LOL!!
Grenae asked me from my last posting if EEF stands for Ewe&Eye&Friends - Yes Grenae it does.
Thanks to everyone for your comments I really appreciate them and everyone who visits.