Last Sunday in the UK it was Mothers Day, and as always I'm late in giving my gift..... but I thought seeing as I was visiting mum and dad over this coming weekend I would take my gift with me when I went rather than post it.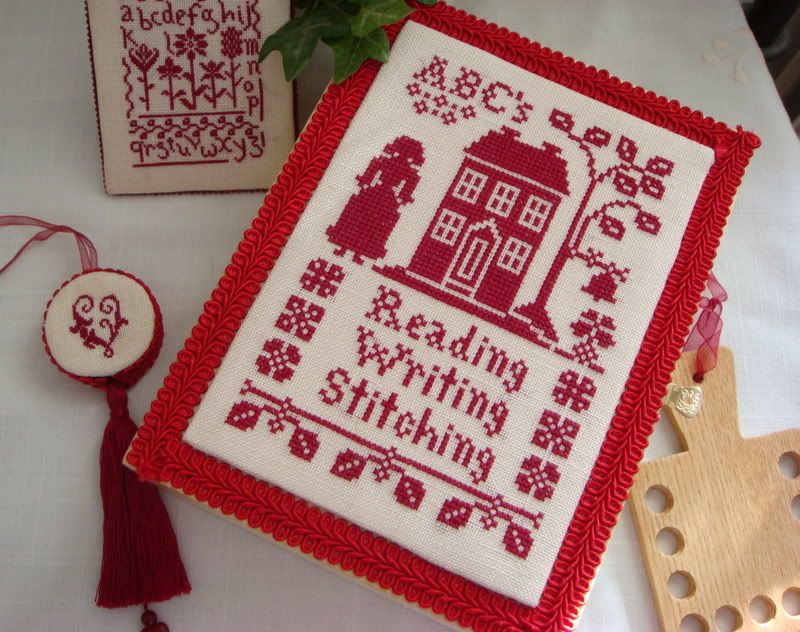 As you can see I stitched mum a box top and accessories, the design on the lid is by LHN and is stitched on 28ct linen using DMC 815. Each accessory is also stitched with the same 28ct linen and the same DMC 815. The pinkeep is by miniatures d'alphabets and is called 'mon jardin'. The initial I found in my box of all sorts I think its french but haven't a clue by whom, both the pinkeep and the fob are stitched over one with one strand.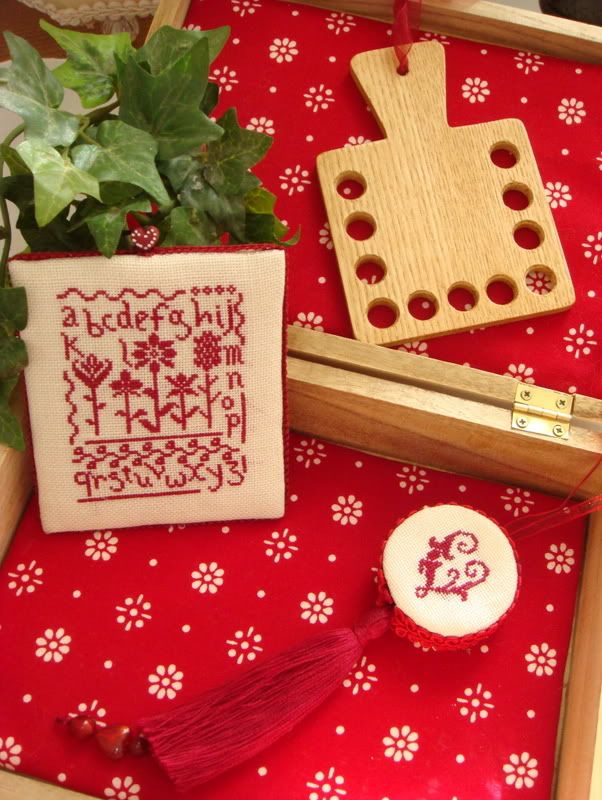 This is a view of the inside of the box which I padded and lined both the lid top and the base of the box. Also you can see the pinkeep and fob a little better. The tassel on the fob I made myself and added the beads. As I had the thread holder in my stash and I knew that mum liked them so I thought I would include it in the box for her.
So this is what I have been a busy with the past week or more, plus of course I have been doing some secret exchange things too which I can't show yet.
Mark has been busy decorating the bathroom over the last weekend and its looking good. No more nagging from me now for a while, I just need to find some flooring for there that I like now.
Last night we had a great fall of snow, now I know it won't be new and novel to most of you, but in the village its quite rare to get a good fall (well about a couple of inches) and especially to last all night and it did I was quite excited about it all Tash loves the snow and rolls about in it - crazy cat. Any how the snow has now gone, and hopefully we won't have anymore this week - yes I know I like it and get like a big child and excited but I have to travel over to mums on Friday with my gift.