For mums birthday I stitched EEF 's 'Sweet Rememberence' but I just couldn't think on how to finish it for her, solution solved mum and I were shopping last Saturday and mum wernt into the cancer research charity shop and there on a shelve was this tray which was perfect for finishing Sweet Rememberence.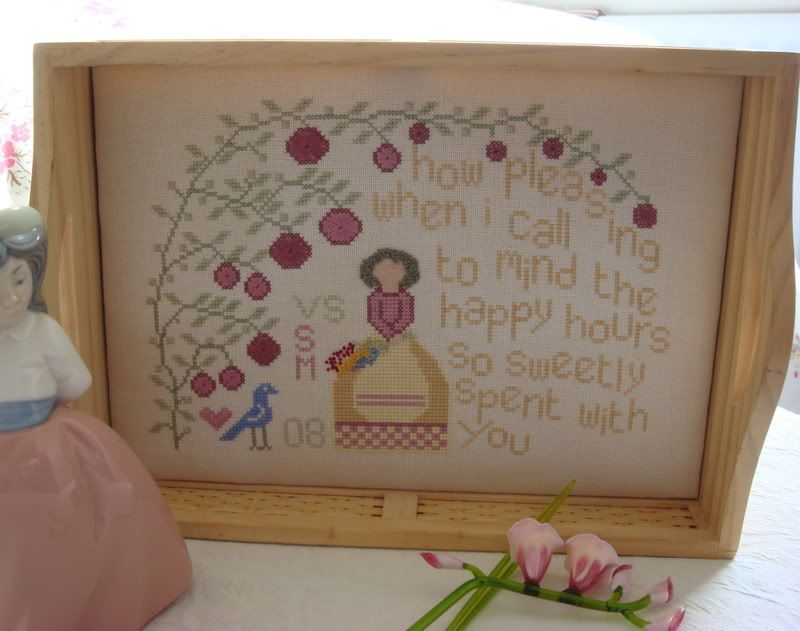 I have stitched it on 32ct evenweave which was a subtle hand dyed by Polstitches, I used DMC and GAST for the stitching.
More stitchy news I received a lovely tea time exchange from Carol which I will take pictures of tomorrow all being well I had hoped to get them done today but I was so busy I never got chance. I have also finished Katrinas PIF (I hope that you are sitting down Katrina if you are reading this, and I have also done a couple of presents too whilst I was at my parents
I had a great time over at my parents I stayed an extra day due to the weather. I had a wonderful evening with Helen we nattered and stitched and drank wine LOL! - well I drank wine, it was lovely and we had a few great shopping trips out too. I didn't get home until yesterday and today I took as leave from work and started Spring Cleaning - Upstairs is done - tomorrow will be downstairs.
Hope you all have a great weekend whatever you are doing - we are off to another 50th party tomnight so I had better get into the shower!