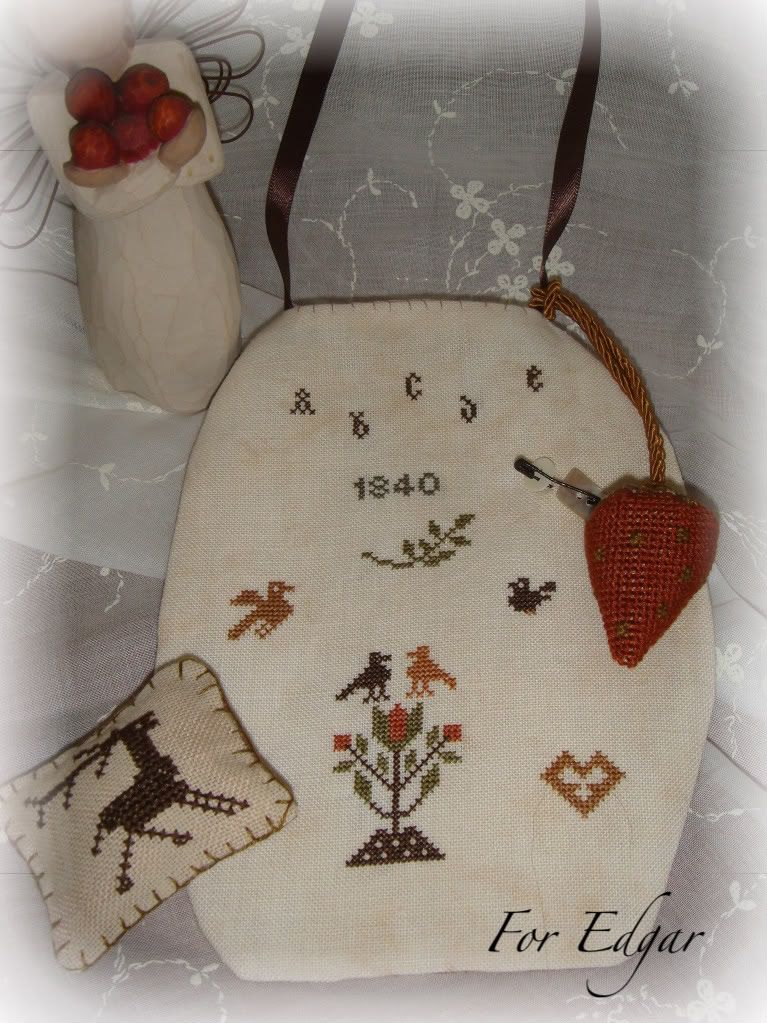 Edgar
had a birthday and as always I am late in getting anyone anything to their actual birthdate. Edgar was my partner for the Stitching Bloggers birthdays, and I knew when it got closer to the date what I wanted to stitch for him
This is of course Blackbird designs and is taken from the lovely little book that they brought out earlier this year in conjunction with dear Niki, I stitched the little bag using my own choice of colours and then very carefully coffee splashed it to age it slightly, its stitched on 40ct linen, and then I made the strawberry - this is actually from the BD Loose Feathers chart 'Its Berry Time' and I used one of the colours (I forget the DMC number) that was in the bag to make it, and then the little pin cushion is also from the same book and is stitched on 32ct linen. The backing is a Moda fabric.
I added a wee black safety pin and 2 of my MoP buttons that I got from 'Duttons for Buttons' (Ooo how I love that shops name LOL!!)
Edgar likes it so I am happy about that, now to wait for the my next very late birthday gift to arrive at its destination, it had even further to go, so it may take a little longer.
I have been busy stitching a couple of Halloween ornies - yet to be finished finished and I have also made a good dent in my Christmas Ornamant stitching, but as yet now 'finishing' done. I have been really busy working most weekends, and next week I am having a long one away, at my parents as its my birthday then and I am going home for it - the first time in a very long time and I am looking forward to the break and seeing everyone.
I have also finished 'Autumn Bouquet' by Blackbird Designs and its going over with me as is a few of the other picture finishes I have shown over the last few months and I am getting them framed or at least I am hoping to find frames for them.
Hope you are all having a good week and an enjoyable weekend to come, I am at Fobbles on Saturday and then working on Sunday (just 1 day this weekend for a change). I hope too that the weather stays fine its been a glorious day today, but last weekend was horrendous with high winds and heavy heavy rain down pours, I thought it was never going to stop.