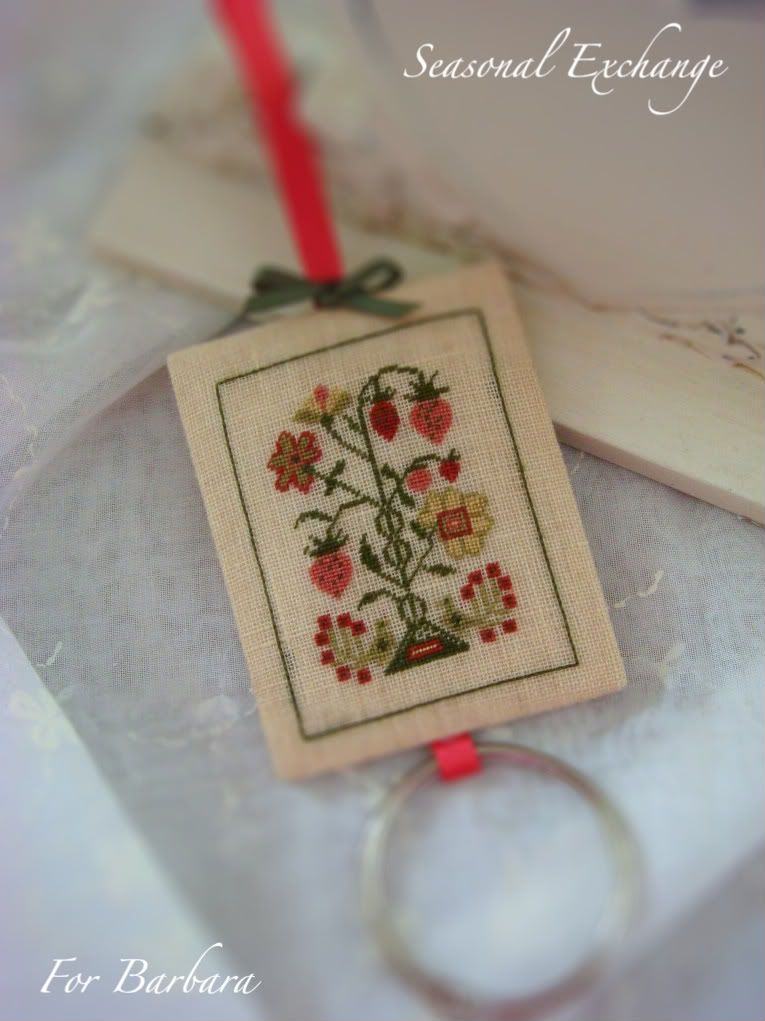 I was really delighted to hear that my very last Seasonal exchange had arrived to its destination today
Barbara
and I have been doing this for a whole year - this is the last one, and I have really really enjoyed it, finding something that Barbara would like has been real fun, and I am really sorry it has all come to an end.
Barbara was the blogger who encouraged me to start blogging, many many moons ago, and we have become good friends ever since.
For our last one I stitched for her 'Dutch Strawberries' by Goode Huswife, what with her living in The Netherlands and strawberries are very summer season. I so loved how Nina had finished her fobs a while ago, I copied the finishing style LOL!
I have stitched it on 40ct Creme Brulee and have done it 1 over 1 (petit point style - as I have been asked about 1/1 on 40ct before, I don't do full crosses my poor eyes just wouldn't be able to take it LOL) I have used the recommended DMC threads and I used satin ribbon for the fob top and a little for the floss tag part to hold the ring in place. The back has a toning MODA fabric which toned really well with the colours and I am really happy that Barbara liked my choice. The little fob is only about 3 - 3.5 inches long and about 2 inches wide, I had such fun doing it I want one for myself now.