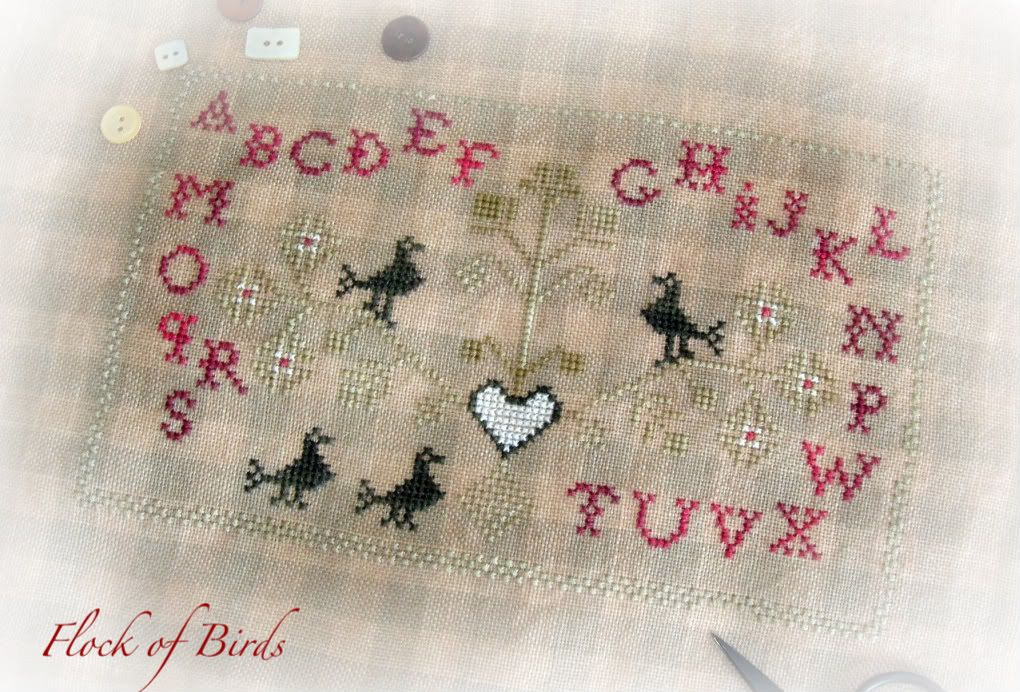 I can't believe its over a week since I last visited my blog, where does time go.
Today I have another to show you that is again in need of a frame, this time its Blackbird Designs - Flock of Birds, taken from 'My heart be true' booklet. I have stitched it on 28ct WDW Checked linen that was recommended to use but have changed the threads using ones I had in my stash (Crescent colours & Carries Creations and DMC), so this is just a tadge brighter than the recommended threads would have been, but I still like the effect.
What have I been up too, well I spent a good part of last week preparing for a workshop that I did to show how to do a tin box finish. But stupid me forgot my camera, but Helen (no not my sister, but a friend), had her I-Phone with her and let me take some, of the wonderful finished tins, which I hope to show you tomorrow and tell you all about it then.
I have been busy stitching as always and have started on some Christmas ornaments, plus I had to do my tin box top, and I have also managed to slip in 'Cherry Heart' by Shepherds Bush, which I haven't photographed yet, but will show you later in the week - well at least thats the plan, but knowing how my life can change pretty quickly it could be next week.
Ooo talking of next week, my sister Helen is coming this Friday to stay with me for a week, though I will have to be at work for most of it, but nontheless I will enjoy her visit and as an extra bonus she is going to do my hair for me again - its great having a hairdresser/Beautician for a sister LOL!
Hope that you all have a great week....