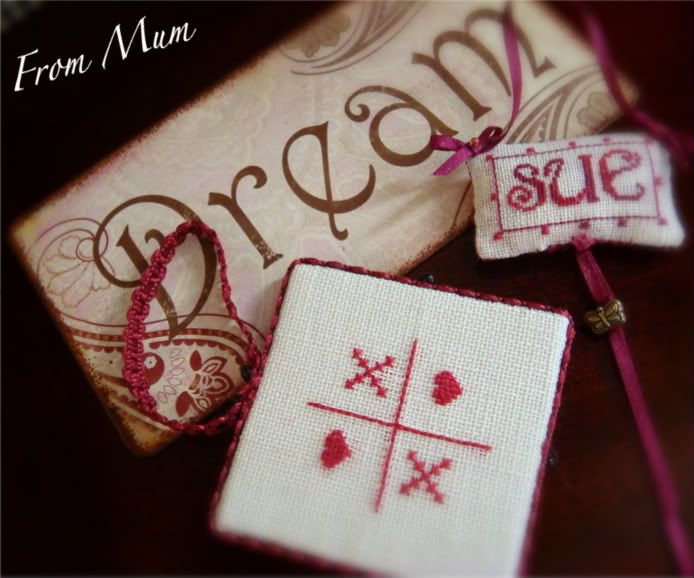 a couple of little beauties that mum made for me in redwork, I know she spelt my name with an 'E' on the end, but as the finished ornies is really tiny, mum said it was too small to not put an 'e' on the end - Only mum can get away with it LOL!! They are so lovely, and I was really touched that she stitched them for me. Mum gave me the little tin plaque too.
Last night Mark and I went on a good old fashioned date - we went to the cinema and saw the new Bond film - Quantum of Solace - OOOoo Daniel Craig to my mind is the BEST James Bond ever and this Bond film was brilliant, full of action and brilliant effects DC is real eye candy. After that we went to a little restaurant and had chicken parmesan, what a great evening we had and the 'date' was long overdue we had some real together time which we have been sadly lacking of late due to all our other commitments.
On the stitchy front I am busy stitching Christmas ornaments, I did do La de da's 'Smell my feet' and had intended to finish it for Halloween, but missed the time and I also still have to finish my little thing I was doing for 'Think Pink' month last month, hopefully I'll have them done in the next couple of weeks.
Bev at Fobbles has told me that my Jill Rensel mount and kit have arrived for our SAL for Shepherds Bush 'Sail Away', I can't wait to get it started. We are meeting together Bev and I and a few of her friends next weekend to start this - I'm all excited LOL!!
Hope everyone has a good weekend.....