Well we had such a wonderful time on holiday it was a real chill factor holiday and we all relaxed, sunbathed and ate and slept, it was wonderful, I'm afraid I took very few pictures whilst I was away I kept forgetting to take the camera out with us. We did manage on the last night to get a group photo taken which is what I am sharing with you.
The resort was so peaceful and quiet I always thought Tenerife was a real boom, boom, boom place but I was pleasantly surprised and we have great plans to go again next August this time for 2 weeks. The lads had a great time playing Golf 3 times, Jim won the first game (or is it round?) and then Mark won the next 2 that they played - Mark is in love with the golf courses over there. Dawn and I, well we just lazed by the pool and I did a wee bit of stitching.
Mind the only stitching I did was for my redwork exchange which is now completed and I just have the finishing work to do.- So thats one I can't share just yet.
On the stitching front when we got home Sunday - well I have to play catch up with the BD SAL - Remember me.
So my needles are red hot, we start the second 5th tomorrow and I'm not ready yet, plus I had to be at work today so I haven't done any stitching today, but this is my progress so far, and I should by a wing and prayer get the first part finished tonight, everyone else in the SAL seems to have theirs finished.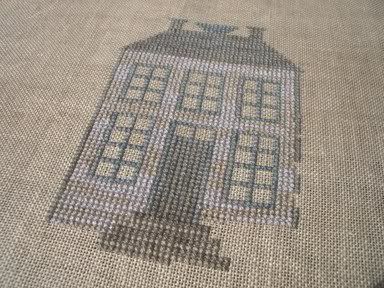 When we got back into the country on Friday - ohh it was way late, we had some delays but we didn't mind as it was all about security. Saturday we went down from Durham to my sister Helens as it was her birthday and what a lovely time we had,
all the family were there, my brother, SIL Sara, their children, Helens family and her in-laws and of course my parents, we all met at Helens house and then we all went out for a meal together, it was really nice and I thoroughly enjoyed seeing everyone. Helen received some really great presents but I will let her tell you all about them on her blog, and her cake was sooo her LOL!!!